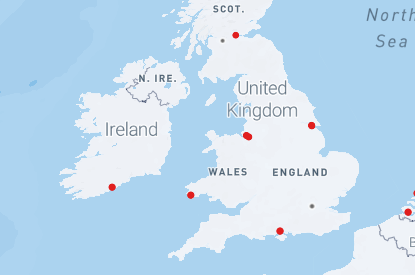 UK Government Funds Hydrogen Power at Refineries
The UK government is subsidising a shift towards hydrogen-powered operations at two of the country's oil refineries, with £7.7mn ($10.9mn) in environmental grants.
The bulk of the funding is going to Essar Oil UK, which runs the 204,000 b/d Stanlow refinery in northwest England. It has received £7.2mn to covers nearly one third of cost of building the UK's first refinery furnace able to be fuelled entirely by hydrogen. The furnace will be installed in Stanlow's only crude distillation unit (CDU), with construction beginning this year and completed by September 2023.
The furnace will use hydrogen produced by the HyNet North West project at the Stanlow site, from where first output is scheduled for 2025. When the furnace is running on hydrogen alone, it will reduce the refinery's overall CO2 emissions by 11pc a year.
US firm Phillips 66 will receive a government grant of £500,000 to support research examining how hydrogen could be used to fuel gas-fired heaters at the 230,000 b/d Killingholme refinery on England's northeast coast.
Phillips 66 said last month that it plans to process used cooking oil (UCO) to produce renewable fuels at Killingholme, which it will source from London, China and Singapore.
"The sector is a committed and important partner in reaching Net Zero," said UK Petroleum Industry Association (UKPIA) director general Stephen Marcos Jones. "UKPIA looks forward to continued close engagement with governments on hydrogen opportunities for the downstream sector."
The HyNet project will involve two 'blue' hydrogen plants with a carbon capture and storage (CCS) chain, requiring a total of £750mn in investment. Essar has said it will build a plant to convert pre-processed household waste into 100mn l/yr of sustainable aviation fuel (SAF), or biojet, at a cost of £600mn. Essar chief operating officer Jon Barden today said that Stanlow aims to be a "net zero site by 2040."
Essar has been working its way through financial difficulty over the past month or so, after a bank changed the terms of a credit facility, forcing the company to raise new liquidity. Its chief executive and two directors departed the company in March and April.
Last week it said that it had arranged a new $850mn credit facility and completed a review of its governance, leading to the appointment of two new non-executive directors.
The UK government yesterday said that its Industrial Energy Transformation Fund would be allocating £16.5mn to "help energy-intensive sectors cut their emissions."
Argus, by Benedict George, May 30, 2021