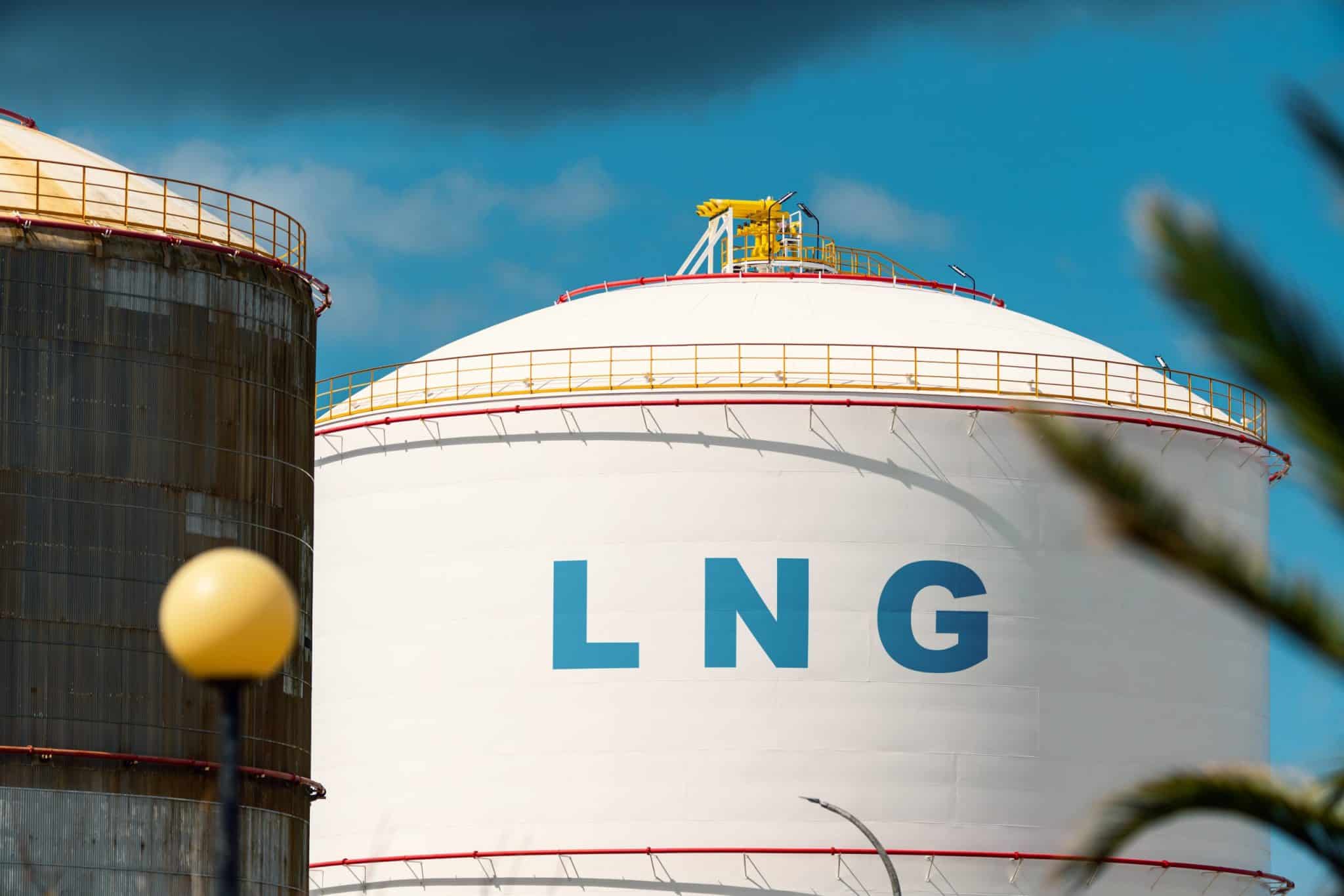 The Future of LNG Storage
The gold Global Tank Storage Award for Environmental Performance is awarded 'to the product or technology that serves to protect the environment and/or reduce emissions at the terminal.' In 2022, this award went to the GST membrane full containment system dedicated to onshore cryogenic storage developed by Gaztransport & Technigaz (GTT).
'It is a great honour for GTT and GST membrane full containment technology to be recognised and accepted by prestigious judges from the likes of Shell, BP, Vopak and Ineos in the LNG industry. Winning the gold also encourages GTT to continue optimisation of our technology offering industry a more environmentally friendly, competitive and attractive solution in terms of cryogenic storage tanks,' says GTT's business development manager Edward Chen.
WHAT IS GST?
GTT developed GST technology for onshore cryogenic storage. The GST membrane full containment system consists of a corrugated stainless steel membrane (304L) with a thickness of 1.2 mm, which serves as the primary membrane. The double network of corrugation absorbs the thermal contractions in both directions from the low temperature LNG, making it resistant to thermal loads. This primary membrane is made from prefabricated membrane sheets, which are welded onto the insulating panels and lap-welded over each other. The insulating panels can be tailored to a customer's needs for boil-off rates, which is typically 0.05% per day.
The insulation panels are load bearing and can transfer internal loads to the outer concrete container, which provides the structural resistance to internal and external loads. On its inner side, the concrete container has a moisture barrier to prevent moisture from entering the tank. The GST system also includes thermal corner protection, as required by industrial standards, consisting of a composite material bonded on and in between the insulation panels to prevent liquid getting into the insulation (membrane failure).
GST tanks are designed to be liquid- and gas-tight in the case of a leak, and have continuous methane detection to monitor even the smallest of leakages from the primary barrier into the insulation space. This ensures high reliability and safe operation in service.
'Onshore LNG tanks are being planned with increasing storage capacity to benefit storage demand and investment cost while GST membrane technology can be safely applied with no theoretical restrictions on the volume and is cost effective,' Chen says.
THE ADVANTAGES OF MEMBRANES
As far as safety goes, both 9% nickel steel full containment tanks and membrane full containment tanks are considered equal in industry, forming the gold standard. Both contain both liquid and vapour under ordinary operating conditions. However, Chen explains that GST membrane technology specifically has a number of other benefits over 9% nickel steel tanks.
The design is flexible as it is based on standard modular components, so can be adapted for every structure without any major changes in design. The membrane represents an inherently safe system to prevent LNG leakage. It is not highly stressed, unlike the inner tanks of nickel steel tanks, so a failure of the membrane will result only in a slow leakage of LNG into the insulation space, which will be detected in the nitrogen purge stream.
The robust technology is suitable for seismic areas, as the forces created by seismic activity are transferred to the outer concrete shell, preventing sliding. The thin wall of the inner tank of a nickel steel tank is prone to uplift, increasing compressive buckling stresses. The concrete outer tank of the GST system is also more resistant to tsunami waves.
Construction of GST membrane tanks is also simpler, with must less specialised labour required on site, due to the use of prefabricated components. These components need to be placed onsite and only the stainless steel liner must be welded. Much of the welding has been automated. Welding thick nickel steel plates onsite, on the other hand, requires a specialist welding qualification.
'Offsite manufacture of insulation panels and membrane fabrication can significantly reduce on-site manhours, resulting in higher productivities, higher quality, and reduced labour rates, leading to an overall reduction in unit costs. The simplified modular technology, the industrial prefabrication of the containment elements, and the easiness of the erection make the GST membrane system cost-competitive and schedule effective, compared to 9% nickel full containment,' says Chen.
He adds: 'Membrane technology also offers operators the possibility to decommission, open and inspect tank inside with no risk if needed, due to unlimited thermal cycle performance.'
STANDING OUT
Chen believes that the Awards judges noted the lower environmental impact of a GST tank compared to a conventional 9% nickel steel full containment LNG tank. GTT uses a unit defined by the European Commission's Joint Research Centre (JRC) know as the 'Average World Citizen Equivalent Unit'. This unit takes into account various aspects including carbon emissions, fossil resources used, particulate matter emissions, water used, and mineral and metal resource depletion. A 220,000 m3 GST LNG onshore tank scores 2029 Average World Citizen Equivalent Units. The same tank in 9% nickel steel scores 2636 Average World Citizen Equivalent Units, 23% higher.
Overall, this makes GST a more sustainable LNG land storage system than other systems available.
Not only that, but the technology has recently been chosen for a number of major projects, including eight 220,000 m3 above-ground LNG tanks for Beijing Gas Tianjin South Port LNG Terminal in China, three 229,000 m3 tanks at Novatek Arctic LNG-2 GBS in Russia, and one 29,000 m3 above-ground LNG tank for Huagang Gas Hejian Peak-shaving Station in China.
'As the state-of-art membrane technology has been accepted by most oil and gas majors and large utility companies, it is likely to reshape the cryogenic tank market – volume and technology wise – thereby driving further innovation and optimisation, which can lead to reductions in unit costs and schedules for LNG storage tanks and also to lower carbon footprint,' says Chen.
BUILDING PROJECTS AND DEVELOPMENT
GST technology was derived from GTT's Mark III system for LNG carriers and GTT built its first onshore membrane-based tanks for ethylene in the 1970s in France. The tanks are still operating commercially. The company developed membrane technology for LNG in the 1980s, when it built two 120,000 m³ onshore membrane tanks for Montoir (France) LNG Receiving Terminal. These have been in commercial operation for more than 40 years and are expected to be in service until 2035.
GTT developed the GST system in 2007, to comply with the EN 14620 standard, which was updated in 2006 to include the need for a thermal protection system. Currently. 37 GTT-built membrane tanks are in operation, mainly in France, Japan, South Korea and China.
The technology is obviously proven and well-used and 20 more GST tanks are currently under construction, in larger sizes than many of the current tanks.
One of the biggest construction projects is in China, where GTT is building tanks at Beijing Gas Tianjin South Port LNG Terminal.
'GTT and Beijing Enterprises Group (the parent company of Beijing Gas Group) signed a collaboration memorandum of understanding (MoU) in December 2019 witnessed by two presidents; then officially launched a cooperation to build two large membrane onshore tanks (220,000 m3 per tank) for Beijing Gas Tianjin South Port LNG Terminal in 2020,' says Chen. 'Thereafter in March 2021, GTT and Beijing Gas Group strengthened collaboration by extending cooperation agreement to build another six large membrane tanks.'
The first two tanks are expected to be commercial operational by the end of 2022.
GTT is now looking at commercialising even larger scale tanks with capacities in excess of 300,000 m3 in the near future.
'GTT is also developing a mid-scale modular membrane tank which can be constructed in the fabrication yard and transported to job site for installation and pre-commissioning. This concept can significantly reduce cost and schedule compared to traditional stick-built LNG tanks,' says Chen.
The current GST technology is ammonia-ready, making it ideal for the energy transition.
GOOD EXPOSURE
Chen says that GTT entered the Awards due to the reputation of Tank Storage Magazine within the LNG industry. The company saw its entry as a way to more widely announce the state-of-the-art GST technology and the recent projects in which it has been used.
'The Tank Storage Awards have indeed linked GTT and GST technology to the industry more closely,' he says.
By Tank Storage Mag, September 30, 2022