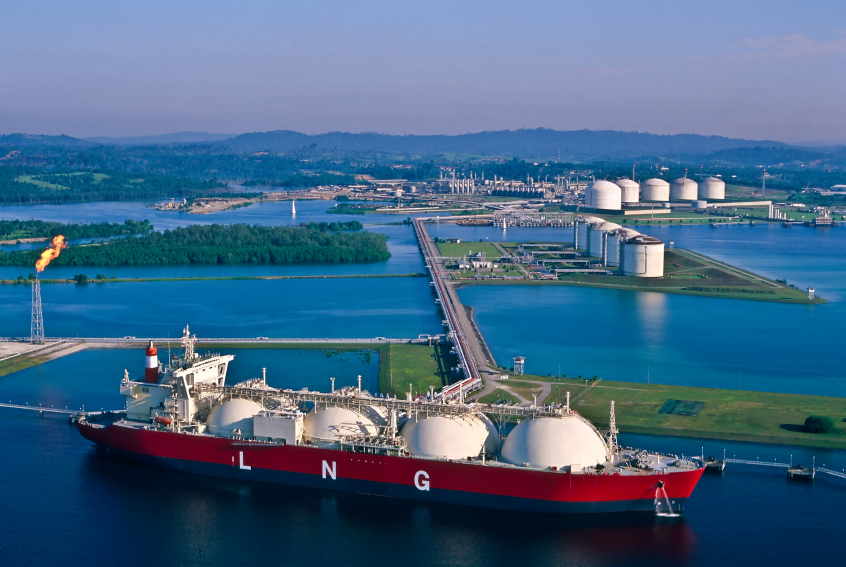 Russia's LNG Ambitions Put at Risk as Linde Exits
International sanctions do not directly target Russian gas producers but they prevent the supply of critical processing equipment and technology.
International chemicals giant Linde has joined a host of Western oil producers, oilfield service providers and technology players in exiting Russia following the country's invasion of Ukraine, putting in doubt Moscow's ambitions of becoming a major global exporter of liquified natural gas by 2030.
As a member of a consortium with Technip Energies and Russia's Nipigazpererabotka, Linde is a key partner underpinning a multi-billion dollar engineering, procurement and construction contract for the Arctic LNG 2 export project led by Novatek, Russia's largest independent gas producer.
In a statement placed on a corporate website, Linde said it is "working with the relevant governments and authorities to ensure the company fully complies with international sanctions and is safely winding down affected projects in Russia".
In addition, Linde has "suspended all business development for new projects in Russia".
Under the Arctic LNG 2 contract, Linde is supplying its proprietary natural gas liquefaction process for all three liquefaction trains under construction in the Novatek-managed specialised yard in Belokamenka, near the port of Murmansk.
The project includes the construction of three LNG trains, each with capacity of 6.6 million tonnes per annum.
The shareholders in Arctic LNG 2 are Novatek with 60%, TotalEnergies holding 10%, China's CNPC and CNOOC with 10% each, as well as Japan Arctic LNG — a consortium involving Mitsui & Co Ltd — also holding 10%.
Novatek squeeze
Construction work is continuing at Belokamenka , according to the social media accounts of numerous site workers.
Pre-fabricated LNG train modules are shown in place having been transported from China recently. The modules are being rolled out to the concrete gravity-based foundation (GBS) of the first liquefaction train, according to Russian social network posts.
Novatek has said previously that all 14 heavy modules have been delivered to the yard and are set to be installed on the GBS during March.
According to the company, shareholders have provided an estimated 57% of the required $21.3 billion financing for the project by end of 2021, with the remaining bills to be paid from project financing loans arranged last year.
Novatek has not been specifically targeted by the current round of international sanctions but the impact of the measures have been felt at top management level.
Novatek core minority shareholder, Russian businessman Gennady Timchenko, on Monday resigned from the company's board of directors after being targeted by new sanctions.
Additionally, Novatek executive chairman Leonid Mikhelson may have moved his 15% personal stake in the gas producer from a Cyprus-based company to Russia, according to reports in Moscow.
Long-term concerns
It is not yet clear the extent to which the projects in which Linde was involved will be affected, but service and maintenance without the cooperation of the original equipment manufacturer i seen as a challenge.
Before the Arctic LNG 2 contract was signed there was a move to procure Russian-made equipment for the project.
This local content push was making progress but Russian authorities eventually eased the rules to allow Novatek more freedom to order equipment from overseas to keep up with the project's schedule.
According to Kirill Lyats, an independent energy analyst in Moscow, Russian manufacturers may eventually be able to replace foreign-made parts and technologies in the country's LNG and gas processing projects.
"We would expect there to be a delay to the only currently under-construction LNG project, which is Arctic LNG 2 in the far north of Russia," commented Chris Wheaton, an analyst at Stifel, an investment bank.
"As TotalEnergies has pledged not to supply more capital to the project, I would expect either another Chinese company or Saudi Aramco to replace them in the project," he added.
The LNG plants themselves are being built by Wison in China and, as such, are likely to avoid sanctions. "But they may encounter problems in being able to be transported from China to the Gydan peninsula, as this requires specialist heavy lift vessels which are largely owned by western companies," Wheaton noted.
It not yet clear yet how commercial offtaking and transport arrangements for the future production will be affected due to uncertainty about the future demand for Russian cargoes.
International sanctions have targeted Russian carriers such as Sovcomflot, which operates a fleet of 11 specialised LNG carriers capable of sailing through two-metre thick ice to serve Yamal LNG, with another 19 similar vessels under construction or on order to serve Arctic LNG 2.
Bleak prospects
Valery Chow, head of gas and LNG research at consultancy firm Wood Mackenzie, said sanctions are likely to hinder the ability of Novatek and Gazprom to deliver Arctic LNG 2 and Baltic LNG respectively.
Chow said prospects for Russian LNG projects not yet past the final investment decision, such as Arctic 1 and Far East LNG, are now " bleak" and he said the Russian's government LNG production target of 140 million tonnes per annum by 2035 looks "unachievable" at present.
Gazprom ventures
In addition to its partnership with Novatek for Arctic LNG 2, Linde has built several partnerships with Russian state-controlled gas producer Gazprom.
Two of these projects — the small-scale Portovaya LNG plant on the Baltic Sea coast and the huge Amur gas processing facility in East Siberia are close to completion.
Portovaya LNG has a capacity of 1.5 million tpa of LNG and is due online later this year.
The Russian government is believed to view this plant as a strategic outlet to deliver LNG to the country's Baltic enclave of Kaliningrad if the region becomes isolated by Western sanctions.
The Amur processing plant treats gas from East Siberia before it is sent on to China.
Novatek also plans to build a blue hydrogen and ammonia facility on the Yamal Peninsula, next to the Yamal LNG.
Sanctions bite
US and European sanctions have prohibited the supply of equipment for hydrocarbon processing industries in Russia.
Linde has not replied to Upstream to confirm whether it expects to halt work on the four projects to comply with restrictions at the time of writing.
Chow suggested that China could emerge as the big winner from any disruptions to Russian LNG exports.
"Its negotiating power would be massively strengthened both as a LNG buyer and investor in Russian upstream and integrated LNG projects," he said.
"We have seen Chinese interest in heavily discounted spot volumes. Competitively priced Russian LNG and better investment terms may ultimately also prove attractive enough for Indian buyers and investors respectively."
upstream by By Vladimir Afanasiev, March 31, 2022