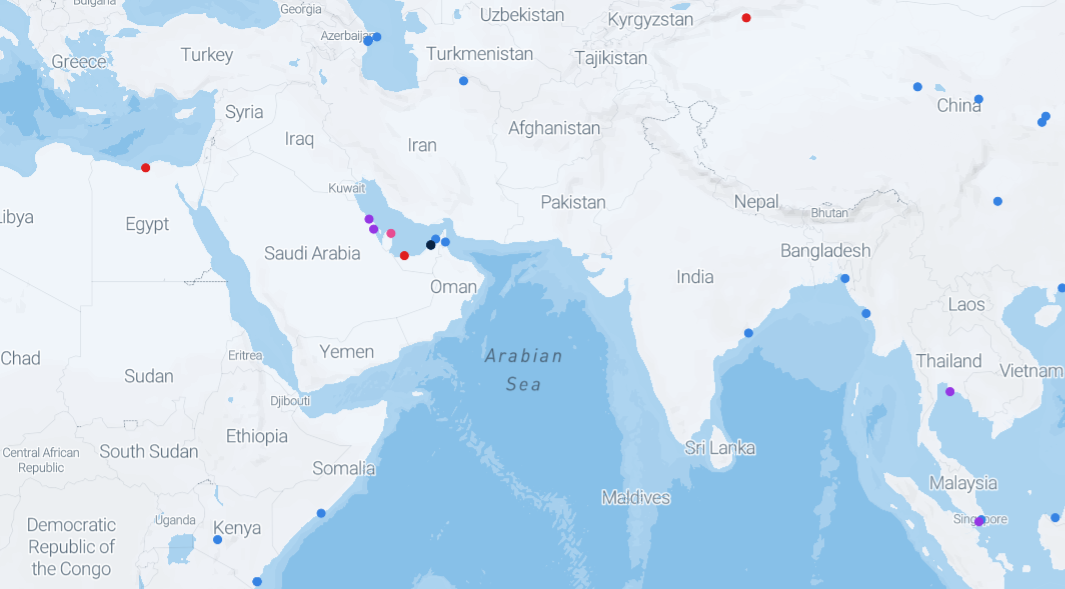 Middle East Newsletter: Oil's Surge Boosts Gulf Economies
A global gas shortage and end economic rebound are boosting demand for oil, buoying Gulf states whose economies depend on the fossil fuel.
Brent Crude has rallied 60% this year, filling Saudi Arabia's coffers. The kingdom, OPEC's biggest producer, is earning more money from oil exports than any time since 2018. 
However, there's growing anxiety among key energy-consuming nations as prices also rise for commodities such as natural gas, food and metals, triggering a rise in inflation that could derail the recovery.
OPEC+'s decision last week to stick to slow production increases triggered a fresh surge in prices, and U.S. Energy Secretary Jennifer Granholm raised the prospect of a potential release of crude from the Strategic Petroleum Reserve. 
Granholm's remarks "were clearly aimed at trying to incentivize Saudi Arabia and its OPEC+ partners to put more barrels on the market," according to RBC Capital Markets.
Saudi Aramco seems confident demand will remain high. The world's largest oil company repeated its intention to increase capacity as oil demand rises.
The prized position of the world's most valuable company to Saudi Aramco.
The Saudi state oil giant hit $2 trillion this week, just shy of Apple, symbolic of how the economy is changing this year.
Apple shares have suffered as consumers rein in spending on home entertainment and get back into the world. That transportation activity has sparked a boom in oil prices that feeds directly to Aramco's bottom line.
The Slant
Corruption is deeply entrenched
in Iraq, and an estimated $150 billion has escaped the country since 2003. The government, which gets most of its revenue from oil profits, hands it over to ministers that often use it to finance supporters. What should be done?
Universal income, Ziad Daoud writes for Bloomberg Opinion. China and India, who account for much of Iraq's income, can be convinced by the international community to transfer money directly to Iraq's 25 million adults, bypassing the political elite.
Need to Know
Iraqi voters headed to the polls for parliamentary elections that are not only a chance to judge the 17-month government, but also their premier's attempts to calm the Saudi-Iran rivalry and repair the nation's oil industry.  
Saudi Arabia's sovereign wealth fund has taken over Newcastle United FC from billionaire Mike Ashley after it received approval from the U.K.'s Premier League following a year and a half wait. It has also committed to funding Amazon's Middle Eastern rival Noon.com
The UAE has become the first of the Persian Gulf petrostates to commit to eliminating planet-warming emissions within its borders, setting a new target that aligns it with most major economies. Satellites over Iran spotted large clouds of methane over fossil fuel infrastructure. 
Iran told the U.S. it should release at least $10 billion of frozen Iranian funds if it wants to resume nuclear talks. Also this week,  researchers discovered a hacking group with alleged ties to the Iranian government had waged a yearslong campaign to steal information from aerospace and telecommunications companies in the Middle East, the U.S., Europe and Russia. 
Egypt's first smartphone maker will assemble headsets for other companies as it seeks to become the main contract builder of electronics bound for the rest of Africa. 
ACWA Power, Saudi Arabia's first $1 billion listing since Aramco, will start trading in Riyadh on Monday. The $1.2 billion IPO drew interest from investors looking for exposure to a business seen as key to the kingdom's plans to diversify away from oil. Initial demand amounted to several billion dollars and advisers had to limit institutional investors' allocations.
Last Word
Dubai ruler Sheikh Mohammed bin Rashid Al Maktoum ordered the hacking of phones belonging to his estranged wife using the controversial Pegasus software, a London court ruled.
The surveillance of Princess Haya Bint al-Hussein using the NSO Group Ltd. technology was employed as the couple fights over the welfare of their children after the princess flew to the U.K. with them in 2019.
Sheikh Mohammed has denied the allegations, saying the findings were "based on an incomplete picture" and "were made in a manner that was unfair." Lawyers for Princess Haya declined to comment. 
Bloomberg by Gwen Ackerman, October 7