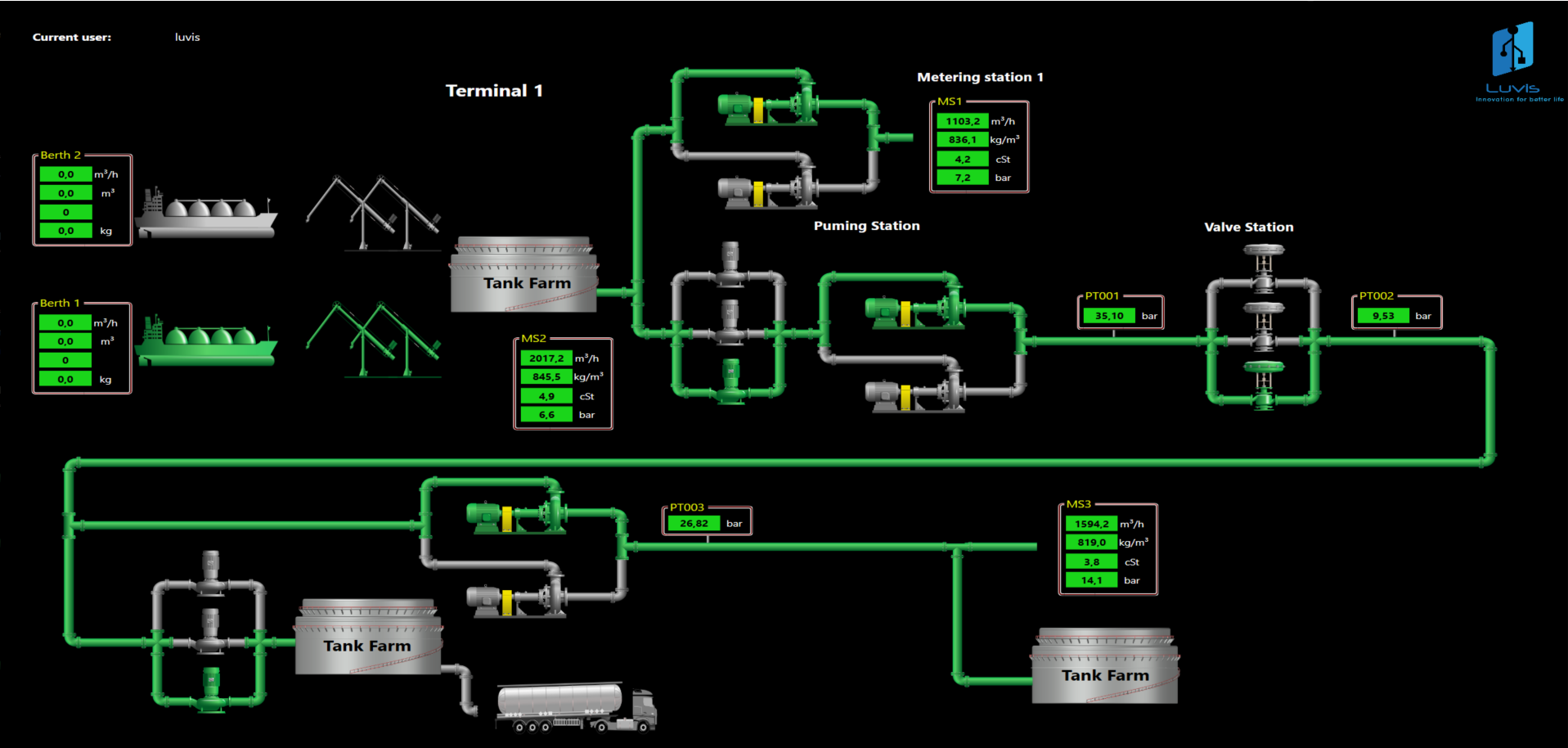 BTMS – Platform for Planning and Integration Business and Technological Processes in Tank Storages and Terminals
BTMS is a platform that integrates, upgrades or completely replaces existing systems. The primary purpose is supervising and managing Terminals, Tank farms and loading/unloading trucks, ships and rails.
BTMS was developed by engineers who have more than 30 years of experience in the oil & gas industry. BTMS has the task of combining the functionalities necessary for the entire Monitoring and Management System to work in a way acceptable to operators, dispatchers and other business entities. Its task is to enable the exchange of data between SCADA, Tank System, Metering stations and other business and technological processes.
Also, this software is responsible for inspecting all authorized business entities in the condition of the tank, active and inactive batches and transports (completed and planned) and the preparation and distribution of the necessary business reports, all in accordance with their assigned access rights.
BTMS is made for:
Benefits:
Maximal utilization of existing software's and hardware's
Various connectivity options.
Unlimited number of clients
Customer buys what he needs and when he needs it
Clients can run on exiting computers
Certified methods for cybersecurity, especially for plant and process data
The BTMS platform can be divided into several modules:
Scheduler
Planner
Terminal Management
Infrastructure
Reports
Control house (Laboratory)
KPI
The system architecture follows four main guidelines that allow modularity and scalability of the system:
Component-based design – separation into specific independent sections
Multi-level architecture – allows flexibility and reusability
Distribution – allows easy scaling
Service Oriented Architecture – eases integration with other Systems
Cybersecurity
BTMS is implemented in companies of strategic value and requires compliance with all network and application security levels. BTMS can be implemented in network infrastructures where the separation of process and business data networks is required. BTMS retains the existing task and functionality in such systems as well, and communication between these networks takes place via data diodes intended for one-way data flow.
Terminal Management System
Terminal Management System ensures efficient, accurate, safe, and secure material transfers for tank storage facilities/terminals. This module will help operators to manage and supervise tank farms, loading/unloading trucks, ships and rails. Terminal Manager also offers real-time data monitoring and connection to existing systems. Terminal Manager is a scalable, highly reliable solution that is appropriate for terminals of all sizes.
Contains a real-time load / unload scheduler.
Systematically enforces your schedule for accurate and reliable offloads and automatically triggers sample capture.
Possibility of connecting with quality control laboratories.
Berth monitoring:
– sampling system management
– manage the arrival / departure of ships
– connection of measuring stations for loading/unloading ships
Automation from entry to exit allows a facility to operates completely unmanned with site access to product offload handled by drivers.
Accurate inventory tracking provides the information needed for planning and operations and customer position reporting.
Easy-to-use, reliable system provides flexibility and supports additional growth as a terminal expands.
Alarms, reports and balancing
For more information, please contact us.
Luvis Projekt d.o.o.
Phone: +385 1 644 8222
E-mail: info@luvis-pro.com
www.luvis-pro.com