6 things terminal operators should know about their competitors
The tank storage industry is a very competitive market and it brings many challenges to its players. Tank terminal operators for liquid bulk are facing both internal and external factors that can affect the efficiency and the progress of their business.
A few internal factors involve the company's organization, processes, availability and infrastructure, etc. Terminal operators can be also challenged by external factors, such as competition, regulations and the economy. With more than 7,040 tank storage facilities worldwide, it can be very tough for storage operators to position themselves in the market.
What exactly do terminal operators need to know in order to face their competition?
1 Location
Location for terminal operators is key for the success of their business. Before starting with any terminal construction project, a lot of thought is put into the geographical location of the terminal. In order to analyze the location, a storage operating company needs to have insights on all other players that are active in that area. Besides other factors, analyzing the competition in a certain area can indicate if it is viable to invest in a project.
If a terminal operator already has an existing terminal in a certain region, it is important to know the neighboring competition. Who are those terminal operators? What is their market share? What cargo types do they support? What is the infrastructure of those terminals? All these are a few crucial questions, that terminal operators should ask themselves.
2 Market share and total storage capacity
Another important factor for a terminal operator is to know the largest storage players in the region. This gives the ability for a terminal operator to analyze his/her position in the market and at the same time understand the power of their competition.
How can they easily determine the market share of their competitors? For example, if a terminal operator is interested in Barcelona Port or has an existing terminal in the port, they can look at the total storage capacity of all the terminal operators. In the image below it can be seen how insightful market share is when identifying the biggest players in the port (the market share is drawn from the total capacity of each terminal in the port).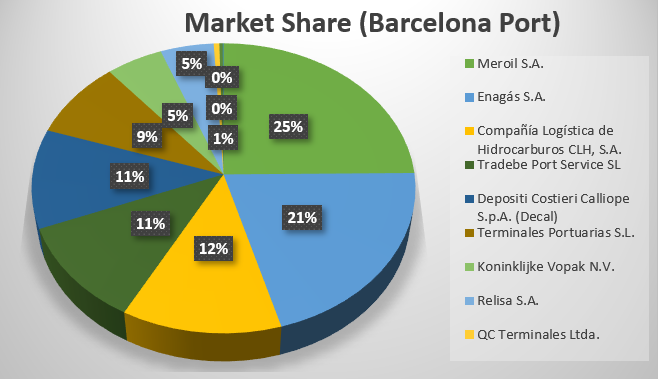 3 Cargo types
For terminal operators it is important to know what cargo types their competitors are able to store. This gives an opportunity for them to create diversity and flexibility in product storage at their terminal. In today's storage industry, the clients of storage operators see diversity and flexibility as an added value. Thus, there are a few important factors that a terminal operator needs to analyze:
Demand in that region
Production in that region
Import and export flows
Imbalances
Storage availability in that region
4 Different terminal functions and access modes
A tank terminal can have the following functions:
Strategic storage
Logistical storage
Import/Export
Trading hub
These four different terminal functions create different level of competition for terminal operators. Tank terminals that are located in the same trading hub and that are providing the same storage services are in direct competition. A strategic storage that is located next to a logistical storage might not be in direct competition, but terminal operators should still thoroughly analyze the level of competition.
The function of a terminal can also dictate the access modes for a terminal. Terminals can have the following access modes: sea, rail, road, pipeline and barge. A terminal with more access modes can be connected with different international trading markets and provides more options and flexibility for its potential clients.
5 Planned investments and expansions
Terminal operators need to know if there are any new projects or planned expansions in their region. A new terminal can mean stronger competition while a new expansion creates more power to an existing competitor. If terminal operators are aware of the new changes and are properly informed, they can better understand how to face the new challenges.
As the competition is significantly increasing, especially in port areas, terminal operators need to constantly evaluate their infrastructure system and consider expansion possibilities.
What should a terminal operator know about a new project/expansion:
Which company is it and what is their market share?
What will be the total added capacity for an expansion or what will be the total capacity of the new terminal?
When will the project be completed?
What products will the terminal be able to store?
What access modes will the terminal have?
6 Logistical performance
A very important factor for marine terminal operators is to analyze the logistical performance of their competition. This includes the following operations:
Throughput
Berth occupancy
Average visit duration
Tank turns
What does the logistical performance measure?
It determines the productivity and performance of a certain terminal. For a terminal operator, it is a good indicator if the competition is underperforming.
Conclusion:
The six factors mentioned in this article are very good indicators and analysis tools that a terminal operator can use in order to determine the efficiency of its terminal. And also to create a plan in order to improve the market share of the terminal. Nevertheless, besides these six factors there are many other factors that can help to evaluate the competition and were not mentioned in this article.
If you are a terminal operator have you thought about these factors?
Product handling efficiency
The performance of your equipment
Storage capacity
Multi-channel transportation system