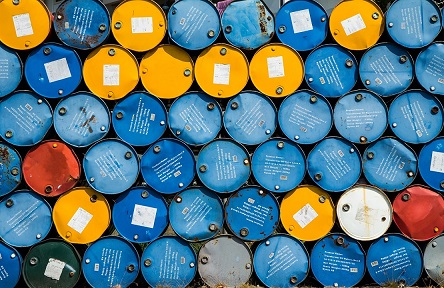 U.S. Buying 3 Million Oil Barrels For Reserves—Suggesting End To Gas Price Crisis
The Department of Energy announced Friday it would purchase 3 million barrels of oil to replenish the U.S. strategic reserve and strengthen energy security, as oil (and related gas) prices have dropped since the summer, when the administration tapped the reserve to counter an energy crisis sparked in part by Russia's invasions of Ukraine.
The purchase, following an announcement by President Joe Biden in October, is an opportunity to buy the oil at a fixed price before repurchasing it for less than the average of $96 it sold for, the Department of Energy said in a statement.
Secretary of Energy Jennifer Granholm noted in May that the buyback process would coincide with lower oil prices—and consequently lower gas prices—which spiked following Russia's invasion of Ukraine in February.
On Friday, the international benchmark Brent Crude futures measured at $77.16 per barrel, down from $96.96 at the time of Biden's announcement in October.
The national average price of a gallon of gasoline in the U.S. is $3.178, according to a tracker by the American Automobile Association, down from last month's average of $3.743.
The 3 million barrels represent 15% of the average number of barrels consumed per day in 2021 (19.89 million).
Crucial Quote
"As we are thoughtful and methodical in the decision to draw down from our emergency reserve, we must be similarly strategic in replenishing the supply so that it stands ready to deliver on its mission to provide relief when needed most," Granholm said.
Surprising Fact
Following a subsequent decision by Biden in October to release an additional 15 million barrels after a record release of 180 million barrels in March, the U.S. strategic oil reserve dropped below 400 million barrels for the first time since 1984, according to the Energy Information Administration.
Key Background
The Department of Energy announced the purchase following a global energy crisis fueled by Russia's invasion of Ukraine, which resulted in a spike in gas prices and the U.S. banning imports of oil, natural gas, coal and petroleum products from Russia. Other causes of the price spike were a refusal by OPEC+ to decrease production and diminishing U.S. refining capacity. Biden projected the U.S. will produce 1 million barrels per day by the end of the year and will continue repurchasing oil to replenish the Strategic Petroleum Reserve when prices fall to $70 a barrel.
Forbes by Ty Roush, December 22, 2022