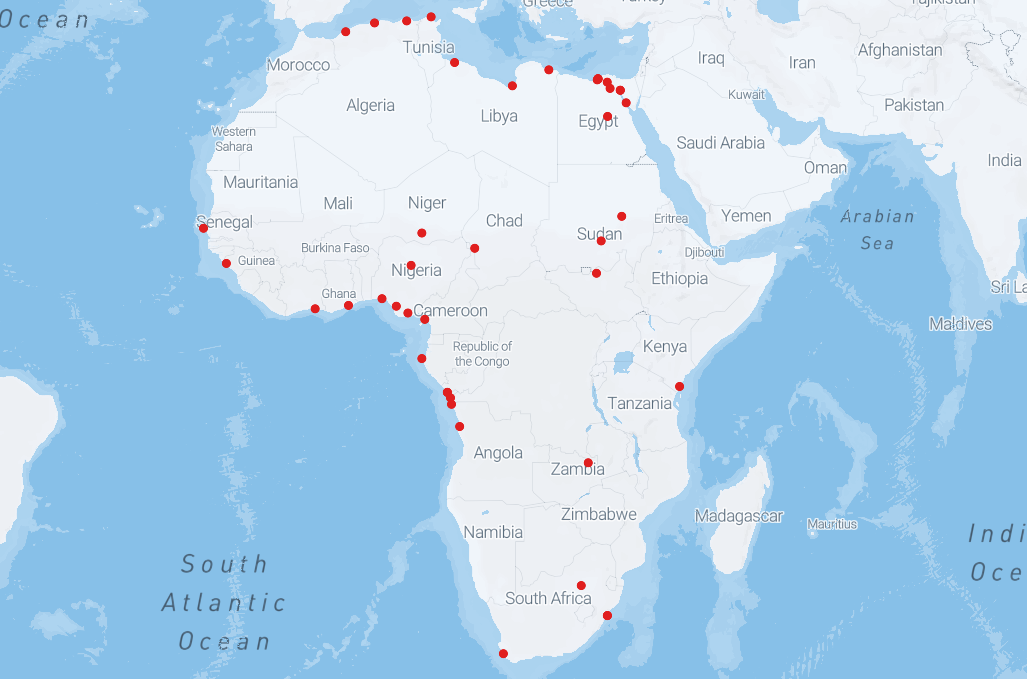 Top Ten: Oil Refineries in Africa by Capacity
As hydrocarbon exploration ramps up in many resource-rich basins across Africa, countries are turning to downstream developments in order to increase domestic production capacity, reduce refined product imports, and maximize the benefits of Africa's significant oil and gas resources. Through the development of large-scale oil refineries across the continent, Africa continues to position itself as a global refined product exporter, increasing domestic capacity while boosting socio-economic growth through energy independence.
Skikda Refinery – 356,500 Barrels per day
The largest oil refinery in Africa is the Skikda refinery, located along Algeria's northern coastline, with a nameplate capacity of 356,500 bpd. Owned and operated by the country's state-owned oil company, Sonatrach, the refinery is supplied with crude oil from the Hassi Messaoud oilfields.
Port Harcourt Refinery – 210,000 Barrels per day
Nigeria's Port Harcourt refinery, a 210,000-bpd refinery complex, comprises two refineries located at Alesa-Eleme, RiversState. Operated by the Port Harcourt Refining Company – a subsidiary of the Nigerian National Petroleum Corporation – the refinery is currently the country's largest operating refinery.
SAPREF Refinery – 180,000 Barrels per day
South Africa's SAPREF refinery, a 50:50 joint venture between BP and Shell, is the largest crude oil refinery in southern Africa, boasting 180,000 bpd capacity. Located in the city of Durban, the refinery accounts for approximately 35% of the country's entire refining capacity.
Alexandria MIDOR Refinery – 160,000 Barrels per day
The Middle East Oil Refinery (MIDOR), owned by a consortium comprising the Egyptian General Petroleum Corporation, ENPPI, PETROJET, and Suez Canal Bank, is located in Alexandria, Egypt. The project is currently undergoing an expansion which will bring its existing 100,000 bpd capacity up by 60%, to 160,000 bpd, making it the fifth largest in Africa and largest in Africa.
Cairo Mostorod Refinery – 142,000 Barrels per day
Egypt's current largest oil refinery, the Cairo Mostorod refinery, is located in Mostorod, Qalyubia Governate and operated by the Egyptian Refining Company. Officially inaugurated in September 2020, the $4.3 billion refinery is the sixth largest in Africa by capacity.
El Nasr Refinery – 132,000 Barrels per day
With a nameplate capacity of 132,000 bpd, Egypt's El Nasr refinery is owned and operated by Nasr Oil. The refinery is the second largest in Egypt and contributes significantly to the country's targeted energy independence, further positioning Egypt as a leading refining market.
Warri Refinery – 125,000 Barrels per day
The Warri refinery, located in Warri, Nigeria, is the country's first Nigerian government wholly owned refinery. With an initial capacity of 100,000 bpd, later debottlenecked to produce 125,000 bpd of crude oil, the Warri refinery is the eight largest in Africa, and has positioned Nigeria as a West African downstream leader.
Zawiyah Refinery – 120,000 Barrels per day
The Zawiyah refinery is Libya's second largest crude oil refinery, located approximately 40km west of the capital city, Tripoli. Operated by the Zawia Oil Refining Company, the refinery has a distillation capacity of 6,000 tons per year and production of 120,000 bpd, consolidating its position as the ninth largest in Africa by capacity.
Alexandria El Mex Refinery – 117,000 Barrels per day
Egypt's Alexandria El Mex facility is a crude oil refinery wholly owned by the Egyptian General Petroleum Corporation. With a maximum refining capacity of 117,000 bpd, the refinery was built to meet domestic needs, while exporting approximately 20% of its production.
Astron Energy Cape Town Refinery – 100,000 Barrels per day
Located in Milnerton, Cape Town, the Astron Energy owned and operated Cape Town refinery has a nameplate refining capacity of 100,000 bpd. It is currently the third-largest refinery in South Africa, however with the upcoming closure and conversion of Engen's 125,000 bpd refinery, will become the second largest in the country and the tenth in Africa.
Honorary Mentions
In addition to the existing crude oil refineries across the continent, many countries have launched new large-scale refinery projects to accelerate production and create viable, competitive downstream markets. The following are just some of the largest, by capacity:
Dangote Refinery – 650,000 Barrels per day
Located near Lagos in Nigeria, the Dangote refinery will be Africa's largest oil refinery with an incredible capacity of 650,000 barrels per day (bpd). Forming part of petrochemical complex, the Dangote refinery will significantly reduce fuel imports, supplying the West African region with refined products. Scheduled for commissioning next year, the $19-billion refinery will be transformative for both the region and Africa.
Lobito Refinery – 200,000 Barrels per day
Angola has launched a call for tenders for the construction of a 200,000-bpd refinery, dubbed the Lobito oil refinery. Forming part of the country's National Development Plan 2018, the Lobito refinery will significantly increase the country's domestic production capacity, while creating over 8,000 jobs.
Energycapitalpower by Charné Hundermark, October 4, 2021