The hottest terminal locations of 2020
In the world of international tank storage, thousands of terminals give access to commercial storage. These terminals are located all over the world. From large tank farms in oil trading hubs in ARA, USGC, Fujairah and Singapore to small depots on Guam or Greenland.
The tank storage sector is not a static industry but a dynamic one which grows every year. It is interesting to find out which regions have the most investments planned or are currently building new additions.
In picture 1 can be seen where the largest concentrations of tank terminals are.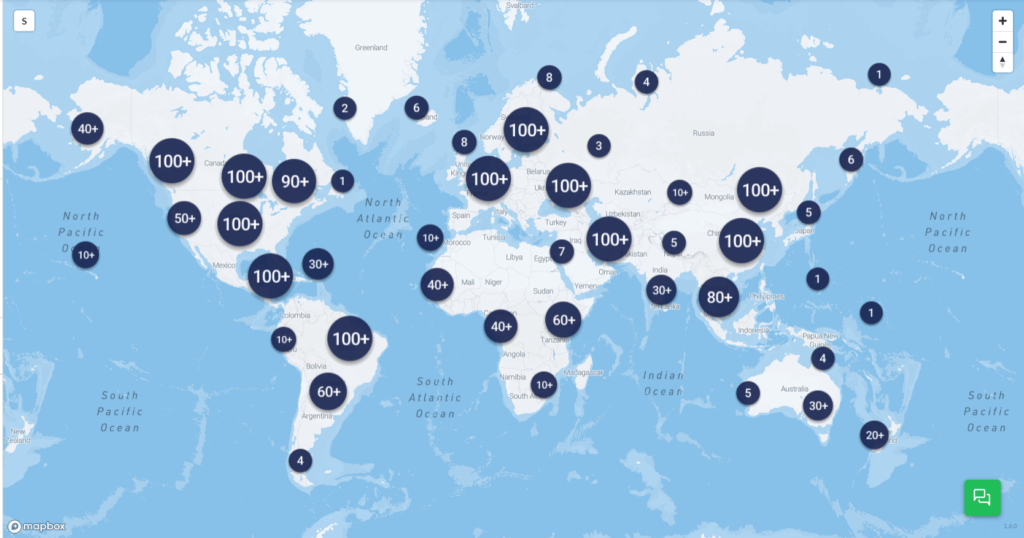 The world's hottest storage hotspots
Estimates are that global tank storage capacity will grow 8% to 1.03 billion cbm in 2020 and even 11.5% to 1.06 billion cbm in 2021.
When ranking the regions with the largest total tank capacity in 2019 the following list can be produced: 1) Asia (360Mcbm), 2) Europe (235Mcbm), 3) North America (191Mcbm), 4) Middle East (50.8Mcbm), 5) South America (45.5Mcbm), 6) Africa (43.6Mcbm), and 7) Oceania (4.4Mcbm).
In 2020 the ranking is as followed: 1) Asia (383.7Mcbm), 2) Europe (244Mcbm), 3) North America (207Mcbm), 4) Middle East (93.3Mcbm), 5) Africa (48.9Mcbm), 6) South America (47.8Mcbm), and 7) Oceania (4.7Mcbm).
Analyzing this list some remarkable conclusion can be taken:
-The Middle East will show the strongest growth rate with 84% in 2020 as capacity in this regions grows from 50.8Mcbm to 93.3Mcbm;
-Africa will leapfrog South America and take position 5. This continent shows a growth rate of 12%. Storage capacity increases from 43.6Mcbm to 48.9Mcbm.
-Europe will grow by 4% till 2020 and is the slowest growing region of all the 7 regions. Capacity in this region grows from 235Mcb to 244Mcbm
Although, looking at regions is sort of looking at it as from a macro-level perspective, we can well say that the Middle East will be the hottest tank terminal location in 2020. There are some interesting locations in the Middle East that have a substantial part in the additions in this region.
Fast growing areas in the Middle East
Oman Tank Terminal in Raz Markaz
In Oman storage of oil liquids is concentrated around the ports of Salalah, around Oman's capital Muscat and Sohar's industrial area. Oman's government owned investment company OOC, Oman Oil Company announced a major investment in 2012 on building a massive 31Mcbm crude storage facility in Ras Markaz. Some 200 tanks will be added. Estimates are that this terminal will be operational as from June 2019. With this investment Oman is trying to develop its position as an important global trading and storage hub.
South Oil Company in Iraq
Roughly said, Iraq has storage facilities in its oil fields in the North, around Kirkuk, Al Anbar and Erbil and in the South, around Basrah. Most of these terminals are controlled by the Ministry of Oil of the Republic of Iraq. Government-owned South Oil Company will add 2.78Mcbm of crude capacity in Al Zubair and another 0.464Mcbm in Fao. For the first addition applies that some 489 crude tanks will be built. December 2019 has been pointed as data of operation. For the latter, applies that 5 tanks will be built and this expansion is planned to become operational in December 2020.
Jask Oil Terminal in Iran
In Iran, storage facilities are controlled by state-owned Iranian Oil Terminals CO. These terminals are mostly located at the Persian Gulf and the gulf of Oman, connected with each-other by the infamous Strait of Hormuz. Not in the 2019 and 2020 numbers but definitely worth mentioning is the 10Mcbm crude addition in Jask. Jask is peninsula that runs into the Gulf of Oman. The Jask Oil Terminal will include 20 tanks with floating roofs. he terminal will also include loading and unloading wharves, offshore facilities including three single-point mooring (SPM), and other infrastructure for import/export oil. Estimates are that this addition will be active in December 2021.
The data for this article was gathered with the support of tankterminals.com's database platform. With only a few clicks and couple of seconds the information of the biggest market players in the various regions was obtained.
For more information, contact:
Jacob van den Berge, Head of Marketing & Sales Insights Global