Rhine Gasoil Barge Flows Grew more than 35%
In 2019, more than 10M tonnes of gasoil was transported up the Rhine to German, French and Swiss destinations. The average volume transported by barge up the Rhine on a weekly base was 201K tonnes. The highest volume was 265K tonnes in mid-February. As can be seen from figure 1 the trend during the year is a modest decrease in transported volumes.
Figure 1: Quarterly Barge Gasoil Flows to Hinterland (c) Insights Global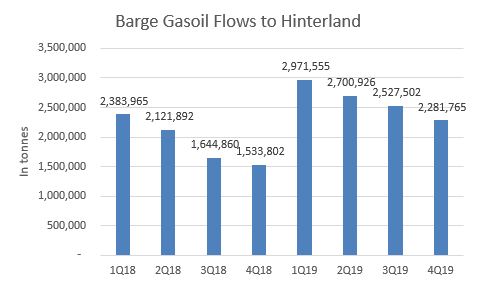 Quarter 1 of last year showed the highest barge export numbers compared to the other quarters. Healthy demand for heating oil during the winter supports higher transports flows. The minimum week volume (138K tonnes) was realized during Christmas when market participants were not active. End-of-year obligations depress volumes in quarter four of
2018 shows a similar pattern with the highest volumes of gasoil barge transports in the first quarter of the year and the lowest volumes in the last quarter. However the trend is more extreme and when we compare the total volume of gasoil that has been exported up the Rhine by barge we see an enormous difference in volume.
In 2018, some 7.6M tonnes was exported. The main reason for the low volume in 2018 were the extremely low Rhine water levels, especially in quarter 3 and 4. During this water level regime barge freight rates spiked to record highs. The average weekly volume in 2018 was 148K tonnes, while the high was recorded in March at 266K tonnes and the low was recorded in October at 85K tonnes.
As can be seen from figure 2, most of the gasoil that was transported by barge upstream went to Germany, followed by Switzerland and France. This clearly emphasizes the importance of the river Rhine for the German oil market.
Figure 2: ex ARA destinations for Gasoil per country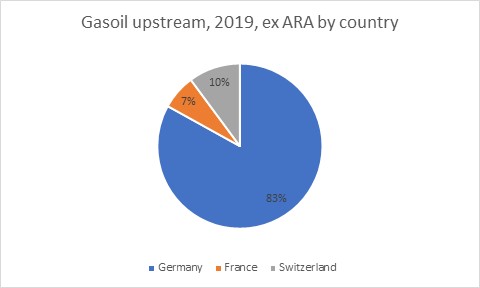 For more information on oil product barge flows, check out our Rhine Flow Service Report or request a trial by filling in form below.