Covid-19 and the impact on the Market Outlook and Oil terminals
Even though the Covid-19 pandemic is still in full swing, it is safe to say that the corona-virus has had a profound impact on nearly every aspect of our daily lives. Besides the more visible effects on public health, society, and transportation, Covid-19 also sent a shockwave through the global economy.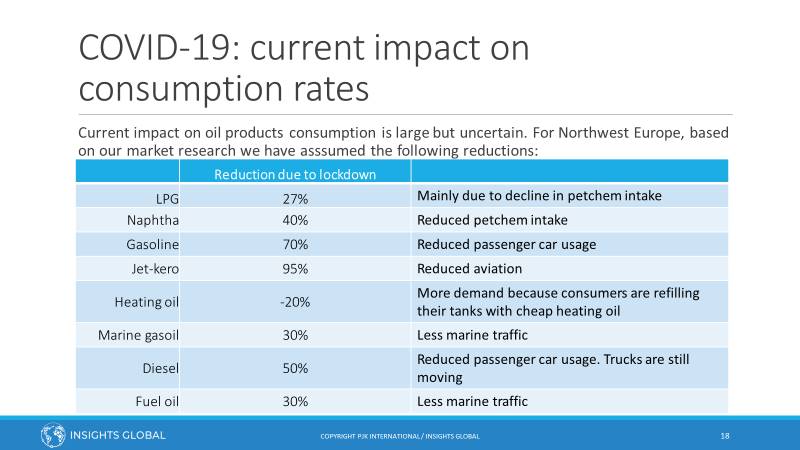 This economic shockwave also had its effects on tank terminals: As soon as the true scope of the Covid-19 pandemic became apparent, the oil market shifted from a backwardated market into a deep contango. Needless to say, this contango immediately led to a significant increase in demand for tank storage. Currently, the commercial occupancy rates at oil tank terminals are very high, and as a result, tank storage rates have increased by 20-30%.

This presents a somewhat unique situation for the tank terminal market. On the one hand, high occupancy rates and increased tank storage rates have a very positive impact on the short-term profitability of oil terminals. However, the consumption of oil products has seen a sharp decline and will takes years to recover fully.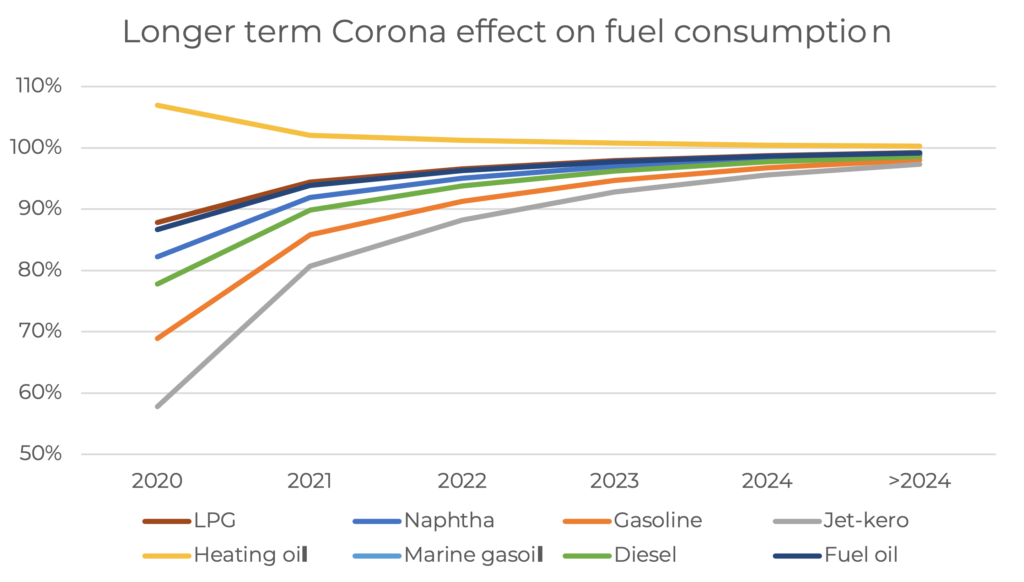 What will this mean for the tank terminal market? At Insights Global, we continuously calibrate our Advanced Tank Terminal Market Model against shifts in the market. Our algorithms take into account macroeconomic trends like oil prices, taxes, trade costs, and interest costs, and (petro)chemical factors like trade flows, logistics, and storage rates. Based on the latest economic developments, we have also incorporated the Corona effect in our forecasting models.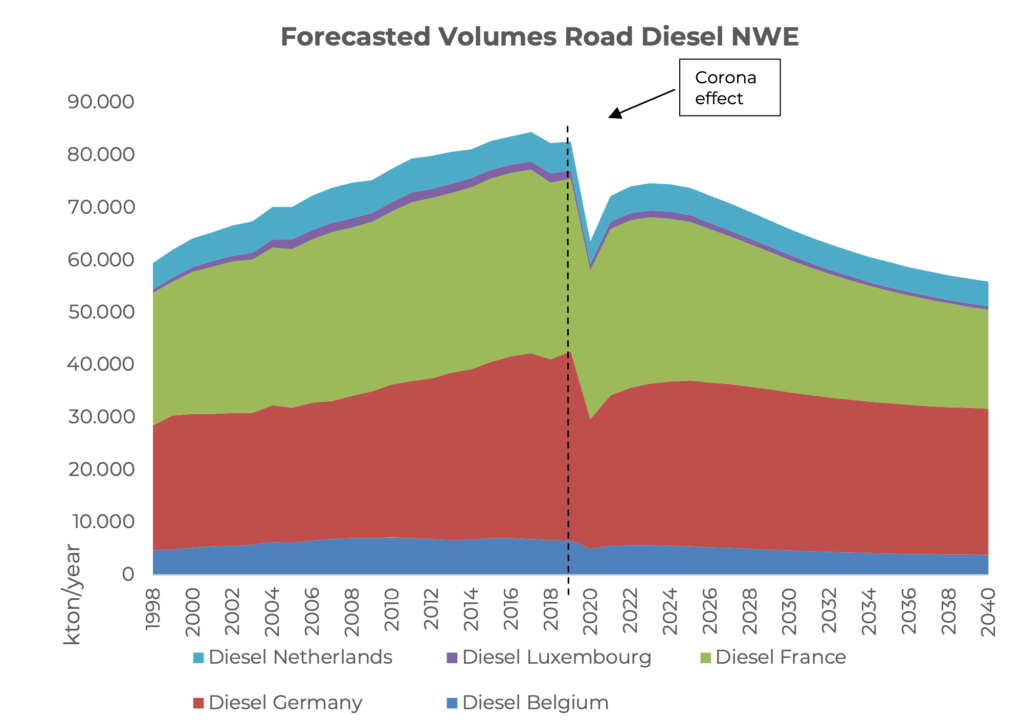 Even though the V-shaped consumption curve (sharp decline followed by a sharp increase) for oil products seems already behind us, we expect it will take five years for consumption levels to normalize fully. Jet-kero consumption is hit especially hard by the Corona-crisis, with an initial reduction of up to 95%. This slow recovery is not only caused by the impending economic recession, but also by the change of habits like working from home and replacing in-person meeting by online meetings.

While the current focus is – understandingly so – on the impact of Covid-19 on the oil market, other essential factors like the electrification of road transport, reverse dieselization of European passenger cars, and IMO 2020 regulation for bunker fuels will also play a key role in the tank terminal market. Naturally, the impact of these events is also incorporated in our Advanced Tank Terminal Market Model.

Having access to accurate, up-to-date oil storage rates is crucial to make the right business decisions.
With our Global Oil Storage Rate Report, you'll gain access to the single and only authoritative source of storage rate information available worldwide. It will provide you with transparency on price levels in global tank storage markets regularly, so you are always in the know and can set the right ask and bid prices for your storage.
Download your FREE Sample Report now and discover what information you could have at your fingertips each quarter.